Pastor Daniel Kolenda
April 24th, 2022
Read Matthew 3:1-12
The threshing floor was primarily a place of separation. After four stages, the wheat collected from the harvest would be separated and reduced to a pile of chaff and a handful of grain. The chaff was swept out and burned in the fire, but the grain was placed in the storehouse where it could be used to make bread. It is noteworthy to mention that at the end of the process, the pile of chaff would always be greater than the grain for good use.
In Matthew 3:1-12, John invoked a sense of urgency among the Israelites to let them know that Jesus was on the threshing floor. He wanted to let them know everything they knew was about to change. Jesus was on the threshing floor and He was about to separate the good from the bad.
Anything that was not of substance was about to be blown away. Anything without life would be blown away. Anyone who is playing games and anyone who is fake, religious, or a hypocrite would be blown away. There was no more time for games: the harvester was on the threshing floor and it was time to get serious.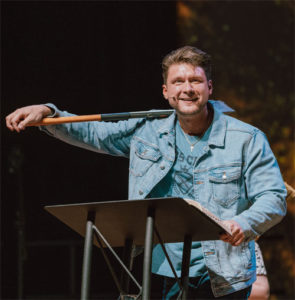 THE AX: CUTTING DOWN
Matthew 3:10 says, "Even now the ax is laid to the root of the trees. Every tree therefore that does not bear good fruit is cut down and thrown into the fire." God examines your life daily to determine if you're bearing fruit. Sometimes you make promises that you will try to, be it next year or even next month, but it doesn't happen. But there will come a time when the door closes and the ax is laid to the root of the trees and the tree will be cut down if it bears no fruit.
In Mark 11, Jesus notices a fig tree in the distance with no fruit but there are leaves that indicate it should be bearing fruit, though it was just a facade. In His disappointment, Jesus then curses the fig tree so that it withers and dies, ensuring that no one will ever eat from that tree again.
As Christians on a mission to spread the gospel, we need to be very mindful of the way we live. The world looks at our lives and they see no difference between how they live and how we live and because of this, they see no reason for Jesus in their lives. Matthew 5:16 says, "In the same way, let your light shine before others, so that they may see your good works and give glory to your Father who is in heaven." You are called to be different and shine in the world, so that others may see Christ in you.
It's time to get rid of the trees that are not bearing fruit in your life. It's time to get rid of hypocrisy in your life and division in your heart. It's time to stop playing church and living with one foot in the world and one foot in the church. There is no more space for lukewarmness, compromise, apathy, and complacency. It is time to get rid of the fruitless trees that are taking up room in your life. Jesus is merciful and gracious, but He has an ax to bring down any tree that does not bear fruit. The Lord has given many of us time to repent but you have been unwilling.
THE WINNOWING FORK: SEPARATION
Matthew 3:12 says, " His winnowing fork is in his hand, and he will clear his threshing floor and gather his wheat into the barn, but the chaff he will burn with unquenchable fire." The winnowing fork is the last stage of the separation process before the burning. The final separation is about to begin and whatever is dead, whatever is of the flesh, and whatever is of selfish ambition, ungodly, and righteous is about to be blown away. Psalm 1:4 says, "The wicked are not so; but are like the chaff which the wind driveth away."
Hosea 13:3 says, "Therefore they shall be like the morning mist or like the dew that goes early away, like the chaff that swirls from the threshing floor or like smoke from a window." There are so many people living empty, worthless lives that are going to be so meaningless in the end.
In Matthew 7, Jesus reminds us that the house that was built upon sand fell as the wind blew. What happens when the winds of loss, hardship, and persecution blow? Will you be left standing? Or will you collapse like a house of cards? It's time to take the winnowing fork and separate the holy from the unholy. It's time to get rid of the worthless things and husks that have no life and no substance of Christ in them.
THE BROOM: SWEEPING
In Matthew 3:12, Jesus emphasizes that He will clear the threshing floor. He's not going to leave anything out of order. He does not plan to leave any straw, dirt, or furniture out of place after He is done. There will be no unrighteousness, unholiness, injustice, wickedness, or a trace of sin. Jesus is going to sweep out the floor and make it so clean. Where will you be when that day comes?
Matthew 4:17 says, "From that time Jesus began to preach, saying, "Repent, for the kingdom of heaven is at hand." In Hebrew, the word repent comes from two letters 'sheen' and 'beyt'. Sheen means to burn down or destroy and beet means house. If you burn the house down then you can't return to live in it. If you walk away from your former life and head towards a new life in Christ, you cannot return unless you plan to remain in the mess and destruction.
John is saying to burn down the house you've been living in, walk away from it and find a new address. It's time to move from that place that is filled with curses, junk, and garbage. You cannot clean up that old life, God has a new address for you.
Don't chop down the tree, separate the stuff, but return to the old house. Repentance means burning down the house, never to return. It's time for a house cleaning. Take the broom, sweep out all the stuff, burn them, and never look back.
APPLICATION QUESTIONS
How do you see yourself on the threshing floor? Do you want to be the grain that remains after the separation process? Or do want to be the chaff that would be thrown away?
Are you living a meaningless life or are you serious and passionate about God? Is your life built upon the rock upon a true, vibrant life with Jesus? Or is it a religious house of cards that will blow over with the first shaking?