Stephen Beauchamp
Read Luke 10:2
You cannot separate prayer and evangelism. They go hand in hand. Evangelistic ministries and assignments can be birthed in the place of prayer. The evangelist's best friend should be the intercessor.
Furthermore, the prayer movement needs to marry the missions movement. It has always been in the heart of the Lord to bring together every nationality and reveal the beauty of His glory. God wants to raise up intercessors to help give birth to the largest harvest of souls the world has ever seen.
A TRUE CONVERSION
1 Timothy 2:1-4 says, "I urge, then, first of all, that petitions, prayers, intercession, and thanksgiving be made for all people— for kings and all those in authority, that we may live peaceful and quiet lives in all godliness and holiness. This is good, and pleases God our Savior, who wants all people to be saved and to come to a knowledge of the truth."
It's an apostolic teaching to connect prayer and the birth of souls. The Holy Spirit operates through your prayers to bring people into divine appointments for true conversion.
True born-again experiences only occur when prayers are mixed with the preaching of the gospel. But prayer and intercession are not just for intercessors, it's for everyone to partner with the Holy Spirit.
MY HOUSE SHALL BE CALLED A HOUSE OF PRAYER
The prophet Isaiah prophesied of a future expression of the "House of the Lord" that would include Gentile nations having access to the presence of the Lord resulting in great joy.
Isaiah 56:7 says, "These I will bring to my holy mountain and give them joy in my house of prayer. Their burnt offerings and sacrifices will be accepted on my altar; for my house will be called a house of prayer for all nations."
Jesus cleansed the temple two times. On the first occasion, He observes racism, discrimination, and controlling behavior. People were taken advantage of and they were being sold animals at a very high cost. The people faced great injustice and were not able to experience God. Jesus begins to exclaim that all unfair behavior must cease because His house will be a house of prayer for nations. It's the marriage of prayer and evangelism. It was about them encountering God.
On the second occasion, Jesus went into the temple early, walked around, and then He actually left to sleep on it. The next day He went into Jerusalem and ended up cleansing the temple for a second time. What Jesus does at that moment, fulfills the prophecy of Psalm 69:9 which says, "For zeal for your house consumes me, and the insults of those who insult you fall on me." His house is meant to be one of prayer for all nations, and He does what is necessary to ensure that.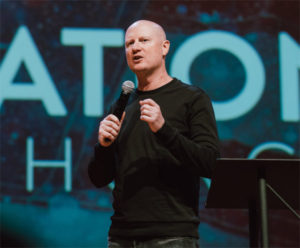 THE TABERNACLE OF DAVID
Another prophecy that is often quoted in the prayer movement is the restoration of David's tabernacle. David established an order of worship that the earth had never seen before. He was commanded by the Lord to establish singers and musicians in Jerusalem for the first time. Isaiah 16:5 says, "In love a throne will be established; in faithfulness a man will sit on it— one from the house of David—one who in judging seeks justice and speeds the cause of righteousness."
God promised to restore the tabernacle of David. This must not be reduced to prayer meetings being led by worship teams. The tabernacle of David speaks of the full release of Jesus' government across all the nations in context to prophetic worship with intercession. It's not just about having good prayer meetings. There needs to be a culture of prayer.
The Lord desires to be worshiped on earth as He is in heaven. In Revelation 4-5, John described aspects of the worship order that were established after God's heart. The heavenly worship order is continual, musical, relational, and God-centered. Evangelism, intercession, and worship aren't just about the here and now. It's an external reality that God has established. And this reality is what will usher in the second coming of Jesus Christ.
The house of prayer has always been for the purpose of encountering Him, knowing Him, and commissioning witnesses of who He is. Intercession is a function of a believer's identity and by the nature of intercession, evangelists are intercessors. Therefore we cannot separate the two, but instead, marry the two together so that we may witness a harvest of souls as we have never seen.
APPLICATION QUESTIONS
How badly do you want to experience a true conversion? Do you simply want to attend church or do you really want to have a born-again experience?
Do you know what your assignment is? Do you feel your heart burning to be an intercessor in the place of prayer?