The Power of Forgiveness: From Shackles To Sonship
Pastor Russ Benson
October 24, 2021
Read Philemon 8-21
The power of forgiveness enables us to live as a child of God. You are enslaved to sin until you have been set free by the power of the Lord. He does not want you to be kept in bondage by your past sins or lifestyles. He longs for you to have a conversion experience where you come to know Him as your true Lord and Savior.
John 8:36 says, "If the Son therefore shall make you free, ye shall be free indeed." This is what we observe in the book of Philemon. Although the book is short, the message is powerful. Onesimus, a bondservant, is on the run from his owner who he as a debt toward, Philemon. After having an encounter with Paul in prison, Onesimus has now given His life to Christ and is released from the shackles of sin. Onesimus, whose name means 'useful', has indeed now become useful to the Lord and useful to others. He was no longer a slave to sin but has now entered into a relationship with God.
This entire chapter is also a reflection of the relationship you have with Christ. Just like Paul pled with Philemon to forgive Onesimus, Jesus interceded on your behalf that you would be forgiven of your sins. He pleads your case with the Father in Heaven and is the only one who can do so. Because of forgiveness and grace, you are no longer a slave to sin. You are a child of God.
FORGIVENESS IS THE CENTRAL CONCEPT OF THE TRUE CHRISTIAN EXPERIENCE
One of the main highlights in the book of Philemon is that Paul pleads with Philemon to forgive Onesimus. Paul lays out a high level of forgiveness that you may not be able to commit to. Paul is talking about a type of forgiveness that guarantees a clean slate. Sometimes you commit to forgiving but sometimes you forgive partially or you forgive that person but you can't forget what they did.
Maybe you weren't celebrated or acknowledged when you thought you were deserving of it. Maybe a favor was not returned to you when you thought it would be. Or maybe you were lied about, cheated on, or accused of things you never did. The only solution that will heal your hurts is the forgiveness that God offers you and the forgiveness that God is asking you to offer others. Colossians 3:13 says, "Bear with one another and, if anyone has a complaint against another, forgive each other; just as the Lord has forgiven you, so you also must forgive."
Philemon had a choice to make, to either forgive or hold onto the offense. You have the ability to forgive, but from the moment you withdraw that grace of forgiveness, you bind your hands and put yourself in shackles of unforgiveness. When you refuse to forgive, you restrict your own potential in Christ.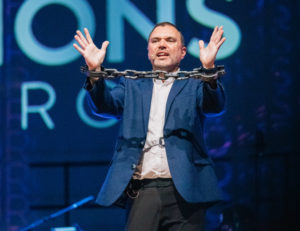 Unforgiveness is your choice to hold back the grace of forgiveness to others. Matthew 6:14-15 says, "For if you forgive others their trespasses, your heavenly Father will also forgive you, but if you do not forgive others their trespasses, neither will your Father forgive your trespasses." Paul presented Philemon with a choice. No one could make Philemon forgive. No one can make you forgive.
Will you forgive? Or will you allow the chains of unforgiveness to bind you? Trust in the power of forgiveness to bring healing and set you free from any bondage.
CHRIST PROVIDES TRANSFORMATIVE GRACE TO ALL WHO ARE WILLING TO RECEIVE IT
Can you imagine how Onesimus must have felt after fleeing Philemon to wound up free but then landing in prison? Imagine how you may have felt in a moment when you did something that you felt was unforgivable. You probably wanted to run away or just forget about it altogether.
But do you know that God will sovereignly arrange situations to meet you in your pit of despair? It's called grace. Onesimus was running for his life but grace was running faster. A man who was on the run found himself in prison and what most people would agree is a horrible experience, became an opportunity for transformation. Onesimus has a conversion experience after encountering the apostle Paul. That is life-transforming grace; a grace that is available to all believers.
Paul wrote in verses 15-16, "For this perhaps is why he was parted from you for a while, that you might have him back forever. No longer as a bondservant but more than a bondservant, as a beloved brother—especially to me, but how much more to you, both in the flesh and in the Lord". Paul is pleading for Onesimus to be forgiven by Philemon. He witnessed the radical transformation that occurred and sees just how valuable and useful Onesimus is.
Onesimus underwent true, radical change. His experience is a reminder that Christ works in the life of any man he gains possession of. Essentially, the unprofitable becomes profitable. He takes the shackles and makes him a son. The grace of God is not stagnant, it is powerful and it transforms.
How many of you are thankful for God's amazing grace? Whatever grace touches, it transforms.
WE ARE ONESIMUS
The book of Philemon teaches you that the gospel is for all. The rich, poor, sinner, scholar, moral man, and the prisoner. Grace is available to all. There is no prison too dark or no hole too deep.
At some point in your life, you were a representation of Onesimus. You were enslaved by the shackles of sin, anger, unforgiveness, and hate that tied you up. Maybe you were on the run and you tried to get away but you ended up in prison or a really dark place. But through it all, Christ was right there with you. He set you free from the chains of sin.
You are Onesimus. Jesus has your debts covered and He has paid them in full. He wants all your sins charged to his account, in the same way that Paul was willing to be charged for the sin of Onesimus. He doesn't just forgive you, He pays the price in full. He paid a debt he did not know. Paul was even willing to pay a debt he did not know.
Jesus offers a love like no other. Allow Him to come in and shatter the shackles so that you may walk as a Son (and Daughter) of the Most High.
APPLICATION QUESTIONS
How much has the Lord forgiven you? How much grace and mercy has the Lord shown you?
How can you extend the grace He has shown you to someone else?
Do you want to be useful? Are you ready to let go of the shackles and enter into a relationship with Him?