Pastor Russ Benson
April 10th, 2022
Read Isaiah 41:10
We all struggle with fear on some level. When faced with dangerous situations, there is a natural fear response. In those moments, the flight or fight response activates, causing us to respond to events that we deem to be fearful or stressful. But God wants you to know that even when you feel like you're surrounded from all sides, He will get the last word. He is surrounding you. The Lord is with us.
DO NOT LET FEAR CRIPPLE YOU
Whether it's a pop quiz you weren't prepared for or a presentation that your boss sprung on you at the last moment, your heart begins racing thinking of those things. The goal of the enemy is to magnify your fears to incapacitate you. He wants you to stare at those fears and examine them from every angle. There is an attempt to make your fears greater than the Lord. The spirit of fear takes that natural fear response and tries to bring it to an unhealthy level. Magnifying fear is one of the favorite tactics of the enemy. He loves it when you get stuck in that fear and it absorbs you so much until the point you become depressed.
Elijah had a great victory but he allowed fear and Jezebel's threats and accusations to discourage him. He gave in to his discouragement and became depressed. 1 Kings 19:3 says, "Then he was afraid, and he arose and ran for his life and came to Beersheba, which belongs to Judah, and left his servant there."
In Nehemiah 4, the children of Israel also encountered great victory as they made progress in rebuilding the wall. But they soon became fearful when their enemies became angry. The day before, they were working tirelessly, but the enemy conspired against them, so they laid down their hammers and stopped working. Nehemiah rose up and provided encouragement. Nehemiah 4:14 says, "After I looked things over, I stood up and said to the nobles, the officials and the rest of the people, 'Don't be afraid of them. Remember the Lord, who is great and awesome, and fight for your families, your sons and your daughters, your wives and your homes.'"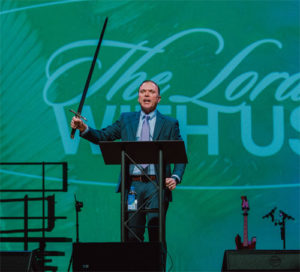 YOU CAN HAVE FAITH BECAUSE THE LORD IS WITH YOU
Your faith is not based on a naive presupposition. It's not wishful thinking, nor is it a shot in the dark. It's based on the truth of God's word and the reality that God Himself is with you. The reality is you serve a God that is not distant but always with and near His people. Ezekiel 48:35 says, "The circumference of the city shall be 18,000 cubits. And the name of the city from that time on shall be, The Lord Is There." This is what defines the city of God. No matter what you're walking through or what you're going through, God is there with you.
In ancient times, the flaggers were sent to the front. Firstly, the flag represented a call to assemble to let the people of God know that it was time to fight. Secondly, the flag identified who you are and who your God is, Jehovah Shammah–God is there (with you in the battle). No matter what you are facing or what you're going through, He's there with you. Lastly, the flag encouraged you to keep going forward. You may have been knocked down or taken a punch, but you need to keep fighting.
God is not absent in your trouble. You're not alone. Whatever you're facing in your life, God is with you.
God was right there with Daniel in the lion's den. God was with Shadrach, Meshach, and Abednego in the fiery furnace. God was present with Paul while he was shackled in chains in prison.
Isaiah 43:2 says, "When you pass through the waters, I will be with you; and through the rivers, they shall not overwhelm you; when you walk through fire you shall not be burned, and the flame shall not consume you."
WHEN GOD COMES TO TOWN, HE ALWAYS SHOWS UP IN POWER
Isaiah 41:10 says, " Fear not, for I am with you; be not dismayed, for I am your God; I will strengthen you, I will help you, I will uphold you with my righteous right hand." These three promises remind us that when God comes, He moves and He acts.
God wants you to know that you don't need to do this on your own or in your own strength because He is strong and mighty and will hold you up with his right hand. The latter part of 2 Chronicles 20 says, "And he said, 'Listen, all Judah and inhabitants of Jerusalem and King Jehoshaphat: Thus says the LORD to you, 'Do not be afraid and do not be dismayed at this great horde, for the battle is not yours but God's.''" You do not need to fight in this battle. You just need to stand firm and hold your position and watch and observe the salvation of the Lord.
Watch what God will do on your behalf. Stand firm and do not be moved. Be strong and face the enemy because the Lord is with you. Deuteronomy 31:8 says, "It is the Lord who goes before you. He will be with you; he will not leave you or forsake you. Do not fear or be dismayed." God is marching forward with you and He will not fail you.
APPLICATION QUESTIONS
How do you respond when you feel afraid? Are you consumed with fear? The Lord wants His people to stand in faith.
How can you show God that you trust Him? Will you hand over everything that you're worried about and allow Him to handle it? He wants to take care of your troubles so you do not have to be afraid.