6177 Lake Ellenor Drive
Orlando, FL 32809
Launching September 10, 2023
Daniel Kolenda
Lead Pastor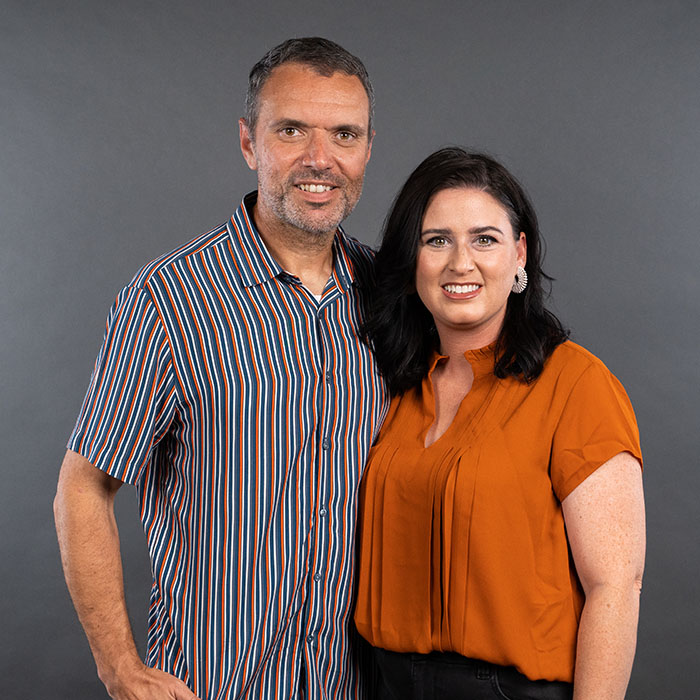 Russell Benson
Executive Pastor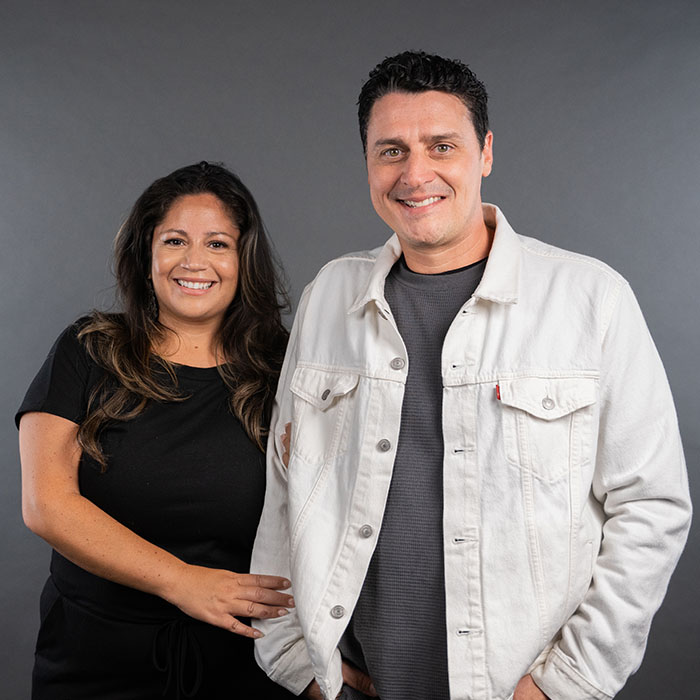 Jamie & Caroline Sumner
Campus Pastor
You can help by joining the team, coming to an interest party, and/or funding our Kingdom Builder Campaign used to launch new campuses including Oak Ridge this fall.
Find the most asked questions and their answers right here.
Where is the church located?
Nations Church is located at Olympia High School (4301 S. Apopka Vineland Rd, Orlando, FL, USA 32835) (Click Here for Directions).
What are the service times?
Nations Church meets every Sunday at 9:00 AM and 11:00 AM EST. If you are unable to attend in person, we encourage you to watch Live at 11:00 AM EST on Nations Church Facebook and YouTube Channel.
Click here for directions.
How can I get connected?
There are many ways to get connected at Nations Church! 
Everyone is encouraged to visit in person and stop by our New to Nations tent located outside Olympia High School where we have a free gift waiting! If you would like to get connected before you attend, text "NationsConnect" to 94000 to get plugged in. 
To further connect, we encourage everyone to attend Growth Track where you can learn more about the mission and vision of Nations Church, join the Dream Team, and use your gifts to further the Kingdom.  Growth Track is a three-step, interactive, class to help you step into purpose and meets every Sunday after the 11:00 AM service. Kid Care and lunch are provided.
You can also check out other ways to get involved by visiting our Dream Team page HERE.
Whether you are interested in 
children's ministry
, 
youth
 or young adults, singles ministry, 
dance
, drama, deliverance ministry, intercession, missions, 
outreach
, prophetic ministry, technical & production, 
worship
, or anything else, we have a place for you! 
Who is the lead pastor?
Daniel Kolenda is the lead pastor of Nations Church. See his full bio
here
.
What are the services like?
Services at Nations Church are always a high energy, celebratory, life-changing experience. Worship is deep and rich. The preaching is powerful and anointed. You will hear inspiring testimonies about what God is doing in Orlando and around the world. You will also have the opportunity to receive personal ministry. If you are sick, need deliverance, personal prophetic ministry, or anything else, our team is ready to minister to you. We currently offer two services every Sunday morning, 9AM and 11 AM. Most of our services last about 1 hour and 30 minutes.
Covid-19 Special Health Request
If you feel sick or have been exposed to Covid-19, please do not come to church or Nations events. We want to do our best to keep everyone healthy. Attendees are welcome to wear masks, but it is not required.
What should I expect on my first visit?
You will feel like you stepped into a family as you enter Nations Church. We encourage all new visitors to stop by the New to Nations Tent or visit us in the Courtyard after service. We are honored you chose to visit and will send you home with a small gift. It is our pleasure to help you find seats, check in your kids to Nations Kids, and assist in any way we can. If you would rather visit and stay under the radar, that's okay too!
What should I wear?
We encourage you to wear what you are comfortable in! You'll see a people wearing a variety of clothing and everyone is welcome to come as they are. Most people are dressed casual and business casual.
Where should I enter the building?
You may enter through the glass doors at the front of the building and on each side. Our Hospitality Dream Team will be there to greet you in the parking lot and you will find plenty of signs to clearly show where to go when you arrive.
What do you offer for teenagers?
Nations Youth Culture (NYC) meets bi-weekly on Wednesday Nights at CfaN Headquarters from 6:30-8:30 PM and is the perfect place for every middle or high schooler to find a family of friends, participate in high-energy games, and experience God in a way that leaves them transformed and empowered.
NYC are more than a Wednesday night youth group. We want to reach out to every teen throughout the week and plan activities outside of the church to facilitate relationships. We'd love for you to join our family!
On Sundays, we encourage all teenagers to join us in our main services where there is a reserved section in the auditorium for youth to sit together. The music and preaching is designed to appeal to the young people (as well as adults).
Follow Nations Youth Culture on social media @wearenationsyouth
What is expected of me as a visitor?
When visiting Nations Church, you are our guest. We want you to feel comfortable and don't expect anything from you. There is no need for you to do anything but come and receive. We believe it will be a life-changing experience!
Will my family and I be safe?
We have taken advanced measures at Nations Church to provide security for you and your family so you can feel safe and secure whenever you're with us. Onsite law enforcement as well as plain clothes security teams are stationed throughout the premises. Special care has been taken in the Nations Kids area to ensure that your children are safe. Masks are not required, but we encourage you to wear them if it makes you more comfortable. We have also invested in powerful and effective air purification machines that are stationed throughout the premises.
What is your music like?
Nations Worship is a movement! The worship department is led by Eddie James who, along with other worship legends like Leonard Jones, Andrea Thomas Hand, Roy Fields (and many more!) lead us every week in powerful times of high praise and deep worship. We are writing, producing and recording original music every week. Multiple teams are being built right now to support the multiple campuses we are launching.
What are your facilities like?
At the moment we are renting the facilities at Olympia High School in Orlando, Florida for our Sunday services. The Auditorium is used for the main service, while the Cafeteria, Courtyard and many classrooms are used for Nursery, Nations Kids, Prophetic Ministry, Growth Track and other classes. Even though we have to set up and tear down every week, we hold everything we do to the highest standard. We have taken great care to make sure that every part of the venue is modified on Sunday mornings to be comfortable, safe and convenient for you.
Olympia High School is handicap accessible.
What denomination is Nations Church?
We are a non-denominational, independent Christian Church. Check out what we believe
here
.
What do you believe?
We are a Jesus centered, full-gospel, evangelical, non-denominational community. Our doctrine is very similar to what you will find in the Assemblies of God or Church of God, but members of Nations Church come from all cultures, backgrounds and denominations. Even within our leadership we have those who have come from Baptist, Methodist and Pentecostal churches and everything in between. To see our statement of faith, click here.
How do you define the gospel?
Our Pastor defines the gospel like this: "The Gospel is the proclamation (kēryssō) of Good News (euangelion) that God offers salvation to sinful humanity (Rom. 1:16) if they will repent and put their trust in Jesus Christ (Mark 1:15). There is nothing we can do to save ourselves (Rom. 3:20). That is why Jesus came (Luke 19:10). He lived a sinless life (2 Cor. 5:21). He died a vicarious death (Is. 53:5). He rose from the dead on the third day – victorious over sin, death, hell and the grave (Rev. 1:18). He ascended to Heaven and sent the Holy Spirit to abide with us forever (John 14:16). Salvation is only found in Jesus Christ and there is "no other name under heaven given to mankind by which we must be saved" (Acts 4:12). Outside of Christ there is nothing but damnation (Mark 16:16).
Yet, salvation is not simply a get-out-of-hell-free card. Nor is it simply a theological category. It is a full immersion into the Spirit of God (1 Cor. 12:13) which results in a complete transformation of a person's life (2 Cor. 5:17). Our spirit is "born again" the moment we put our trust in Christ (John 3:3-6), by grace through faith (Eph. 2:8). For a believer, that is in the past (2 Tim. 1:9, 1 Cor. 6:11, Titus 3:4-5). Our soul is continually being saved as we are conformed to the image of Christ (2 Cor. 3:18). That is an ongoing, present reality (1 Cor. 1:18, Phil. 2:12-13, 2 Cor. 2:15). Our body will be resurrected at the return of Christ unto eternal life (that is future) (1 Thess. 4:16-17, Eph. 1:14, 1 Thess. 5:8, ). Thus, the gospel effects every part of a person: spirit, soul and body (1 Thess 5:23) – past, present and future (Rom. 5:9).
How do you reach out to the community?
Nations Church is one of the most outreach-oriented churches in the world. We have multiple teams reaching the community every week by preaching the Gospel, praying for the sick, and caring for those in need. You can find more info here.
What do you do for missions?
Nations Church is the local church expression of Christ for all Nations, a ministry that has documented more than 81-million decisions for Christ since 1987. We have 14 offices in 12 countries on 6 continents. We do multiple mass gospel crusades every year. We train, equip, and deploy hundreds of evangelists every year. We have a mission sending agency, credentialing, overseeing, and collaborating with an army of evangelists and missionaries around the world. Every Sunday you will hear about the amazing things going on around the world through our big, global family of missionaries. Suffice it to say that missions and evangelism is at the core of everything that we do. To find out more about our Evangelism Bootcamp,
click here
.
What is your strategy for discipleship?
At Nations Church we don't simply have amazing Sunday services (which we do), but we are also very intentional about building meaningful Kingdom relationships and making sure that everyone is constantly growing in their relationship with God. That means we are all making disciples and we are all being discipled. At the heart of our discipleship strategy is hundreds of small groups. Our small groups meet all over the city and really throughout the entire region. They gather in homes, at coffee shops, parks and at the CfaN headquarters. Working on a semester schedule, groups begin anew each fall and spring and run for approximately twelve weeks at a time. We have groups of students, young married couples, empty nesters, preschool moms, and all kinds of shared interests. What they all have in common is a concerted emphasis on building community and spiritual development. No matter where you live, what stage of life you are in, or what you are passionate about, there is a group at Nations Church where you belong. To see the small groups currently meeting, their themes and locations, click here.
What kind of history do you have?
We are a new church with a long legacy. Nations Church (which launched on August 15th 2021) is the local church expression of Christ for all Nations (CfaN) which was started in 1975 by the world renowned evangelist Reinhard Bonnke. In 2008 Daniel Kolenda, Reinhard Bonnke's successor, became the President and CEO of CfaN. We have printed over 190-million copies of Evangelist Bonnke and Kolenda's books in 104 languages and we have documented more than 81-million decisions for Christ in our super-massive Gospel Crusades around the world. You will find the same culture of excellence, integrity, evangelistic zeal and love for the Lord that has characterized CfaN for more than 45 years at Nations Church. Moreover, the Nations Church family is a global family with 14 offices in 12 countries on 6 continents. For more about our story, click here.
What are the demographics of the members?
Nations Church is one of the most diverse churches you will ever find. When you visit, you will hear multiple languages and many accents from the pulpit and pew. Sunday services are translated into Spanish, Portuguese and Russian. Our ministry has 14 offices in 12 countries on 6 continents. We have leaders and members from Africa, Asia, South America, Australia and Europe. Evangelist Bonnke and Kolenda's books have been translated into 104 languages. You will find every race, every age and many different cultures and backgrounds at Nations Church. No matter where you come from, you are welcome here.
How do I get access to the translation of the services?
Our Sunday services are translated into Spanish, Portuguese and Russian (more languages are coming). When you arrive at church go to the info booth and a team member will give you the information you need.
What is expected of members?
We encourage all members of Nations Church to get involved in life of the church in a way that is healthy, sustainable, and conducive to the rhythm of their lives and families. Some people are in a season where they desire to be fully immersed and active. Some are in a season of needing healing and rest. Still others are facing extraordinary challenges with family, children, work, and school. Nations Church is here to serve you and help you grow closer to Jesus no matter what season of life you are in without adding more pressure. All members are encouraged to give and serve as they are able. But there is no one auditing our members. Your commitment is between you and God, and we are here for you no matter what.
What is the process for joining?
We ask everyone who calls Nations Church "home" to go through a three-week series called "Growth Track" in which you will be introduced to the history, mission, and vision of Nation's Church (in week 1), learn about spiritual gifts, and take a "Spiritual Gifts Assessment" survey (in week 2) and be introduced to the "Dream Team" (in week 3). Growth track is offered after the 11AM service every Sunday morning. To find out more, or to register for Growth Track, click here.