God Gives Life To The Dead
Scott Volk
March 20th, 2022
Read Romans 4
There is something about things that are dead that attracts God. When you are dead, Jesus lives through you. When you are dead, you are not called to let circumstances dictate your faith. You will no longer look at the natural circumstances, but you will believe in God who gives life to the dead and speaks into being that which does not exist. You don't believe in what you see, you believe in what God says.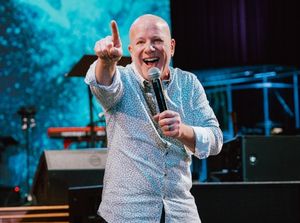 GOD BEGINS WITH BARRENNESS
Any great promise of God must start with man's impossibility. If God has given you a promise that you could fulfill yourself, then you might want to reconsider and examine whether that promise did in fact come from God. A tell-tale sign of a promise that comes from God is that it's impossible in the natural for it to ever happen to you.
In Genesis 11, God is about to give Abram the promises of promises. Abraham holds the key to world redemption, and right before He speaks to Abraham, Abraham is choosing his wife. Genesis 11:29-30 says, "And Abram and Nahor took wives. The name of Abram's wife was Sarai, and the name of Nahor's wife, Milcah, the daughter of Haran the father of Milcah and Iscah. Now Sarai was barren; she had no child." Sarai was barren but God was not angry when Abram chose Sarah because this was set up in a way that God could give life to the dead. Barrenness puts a mark on you.
Don't try to find your way out of barrenness. When God says He will, you can take it to the bank. He is not a man that He should lie. He keeps His covenant to one thousand generations. It's in your weakness that God is glorified and proves Himself as the God who gives life to the dead.
AVOID THE ELIEZER SOLUTION
Genesis 15:2-4 says, "But Abram said, "O Lord God, what will you give me, for I continue childless, and the heir of my house is Eliezer of Damascus?" And Abram said, "Behold, you have given me no offspring, and a member of my household will be my heir." And behold, the word of the Lord came to him: "This man shall not be your heir; your very own son shall be your heir."
Abram is concerned that he is too old and has no heir, so he declares that Eliezer will be his heir. He is dumbing-down on God's promises because things are not shaping up the way he envisioned. But God reassures Abram that he will receive a son and he shall be his heir. Abram became impatient and tried to fix his own situation, but God knows best and His timing is always perfect.
Don't give God an out if your promises are not yet fulfilled. Don't minimize what God says so you can fulfill it in your own power. In the midst of barrenness, you might be doing everything you can to try to 'unbarren' yourself, but you need to learn to live in it and be thankful for it. Thank God in advance for the promise that He's going to do it. He will give life to the dead. In the midst of your barrenness, develop a spirit of thanksgiving.
AVOID THE HAGAR SOLUTION
Genesis 16:12 says, "Now Sarai, Abram's wife, had borne him no children. She had a female Egyptian servant whose name was Hagar. And Sarai said to Abram, "Behold now, the Lord has prevented me from bearing children. Go in to my servant; it may be that I shall obtain children by her." And Abram listened to the voice of Sarai."
The Hagar solution says 'do it in your own strength.' Sometimes when you do things with your own strength, it works. Let's examine Moses in the wilderness. He had the rod of God–which was his authority–and God commanded Moses to speak to the rock. What makes this interesting is that his speech is actually his weakness because of his stuttering.
God commanded him to act out his weakness and speak to the rock. Moses did not speak to the rock and used the rod to strike the rock. You would think that because of his disobedience, no water would spring forth, but on the contrary, water does come out and feeds a nation. But God doesn't look at what works, He looks at people who are secure in their sonship and daughtership and need not work to get the approval of men or God because they're just simply resting in who God is.
In Genesis 17, God declares that Abraham, formerly known as Abram will be a father of a multitude of nations, and Sarah, formerly known as Sarai, will be blessed with a son. God assures them that one year later, they will have a son. Abraham is ninety-nine and Sarah is eighty-nine and past childbearing age but God showed up and Isaac was born.
He waited until death was ultimate and he conquered death. God gives life to the dead and speaks into being that which does not exist. There is an appointed time for God's promises to come to pass. God assured Abraham and Sarah that they would bring forth a son and He fulfilled his promise. Surely, He can fulfill His promises to you.
APPLICATION QUESTIONS
How will you respond to your barren situation? Will you act on your own weakness or will you allow God to show up and conquer death?
What is it in Abraham and Sarai's story that is going to lift your faith and bring you hope in the midst of your impossible situation?
Will you believe in God who gives life to the dead and speaks into being that which does not exist?