Your Breakthrough Is Coming
Special Guest Joe Oden
January 23rd, 2022
Have you ever been in a situation where you thought things weren't going to work out, and the more you meditated on this lie, the more overwhelmed and consumed that you felt that there was no hope? You felt like throwing in the towel and going in the other direction because it became too much for you to handle. You felt like taking an exit off the pathway of serving God because at that moment, it seemed pointless to continue going.
But amid the lowest point you've ever been, a still small voice reminded you that God has plans for you. When it seems like God is doing nothing, He is doing more than you can imagine. The devil does not get the final word over your life. Stop agreeing with the voice of the enemy because your breakthrough is coming.
TAKE YOUR EYES OFF THE PAIN
Your emotions and your senses will lie to you. Circumstances might lie to you, but God does not change. He is with you in the mountains and the valley. God's word is more significant than what you feel and what's going on inside of you.
Hebrews 13:5 says, "…I will never leave you nor forsake you". Take your eyes off of the problem and the pain and look to the One who knows your beginning and your end. He is the author and perfecter of your life.
When you shift your focus from the pain to the one who removes the pain, you understand that there is nothing He cannot fix.
CRY OUT TO GOD
Mark 10:48 says, "Then many warned him to be quiet; but he cried out all the more, 'Son of David, have mercy on me!'" Bartimaeus didn't care who was around him or beside him. He didn't care what anyone thought or said. He cried out to God.
There will come a point in your life when you will feel extremely hopeless. No amount of therapy or counseling could help you because you need the Wonderful Counselor. You have to forget who's watching or how hard it might be to ask for help. You need to cry out to God because He alone can give you guidance, help, and deliverance through His wisdom and miracles.
When it's the darkest and you can't see, or you feel like there is no other way, Jesus is looking to let you know that you are in the right place. He is about to take over and move on your behalf. Mark 10:52 says, "Then Jesus said to him, 'Go your way; your faith has made you well.' And immediately he received his sight and followed Jesus on the road." Jesus healed Bartimaeus and restored his sight.
Sometimes you go through things in your life and have no idea why these things are happening. But have you ever considered that you're going through something today to be a testament to the goodness of God? In the same way, as Bartimaeus' healing impacted the entire city, your healing will affect others.
Your faith and belief in God will cause others to believe in Him. Because of you, an entire city or even a community will be transformed and cry out to know Him as well.
GOD SHOWS UP
God showed up for Lazarus. He was so sure that his sickness will not end in death that He stayed where he was for two more days. Jesus arrived in Judea, four days after the death of Lazarus and many were disturbed because they believed that if He came earlier He would have been able to save Lazarus. But John 11:40 says, "Then Jesus said, 'Did I not tell you that if you believe, you will see the glory of God?'" Jesus rose Lazarus from the dead and snatched the victory from the grave. He declared that Lazarus' sickness would be for the glory of God.
God showed up for the leper. He believed in God for healing and that's precisely what happened. God is concerned with everyone's condition, no matter how bad it seems.
God showed up for the woman with the issue of blood. She reached because she believed in God's healing power, and so said, so done.
God showed up for many persons who were in a great deal of pain and suffering and He will also show up for you. He only asks that you believe Him because your breakthrough is coming.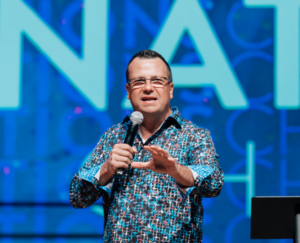 MOVE IN GOD'S DIRECTION
When you don't know what to do or how to move, just start moving in His direction. Maybe you don't feel like praying or you don't want to get out of bed, but God wants you to look unto Him.
Sometimes you just need to get dressed, put on a smile, and hold onto the faith that God will work it out. Let your faith be greater than your problems. When you start to act like a victor, victory will follow.
Despite your situation, focus on all the good things God has done in your life. Do not fixate on the problem at hand. Your story is not finished yet. God can turn your situation around. You might be in the shadow of death, but Jesus is walking with you.
APPLICATION QUESTIONS
How are you responding to God in this current season of your life? Are you worried or are you handing over all your circumstances to Him?
Do you think you're too messed up and too far gone? Remember that Jesus is in the business of healing and can turn any situation for His honor and glory.