Scott Volk
'Is this not the word that we told you in Egypt, saying, 'Let us alone that we may serve the Egyptians'? For it would have been better for us to serve the Egyptians than that we should die in the wilderness." And Moses said to the people, "Do not be afraid. Stand still, and see the salvation of the Lord , which He will accomplish for you today. For the Egyptians whom you see today, you shall see again no more forever. The Lord will fight for you, and you shall hold your peace."'
– Exodus 14:12-14 NKJV
In order for God to be glorified, you can't be. There is no room for self-glorification, give God the glory. When you come to an end of yourself and an end of any possibility for you to make it through, then God can be glorified. And when God is glorified, everything changes.
You often find yourself in impossible situations, not because the devil put you there, but because the Lord has you there. The disciples were invited by Jesus into a boat that went through a storm that could have killed them. But He called them into the boat so they could experience that He has power over the storm. When it's all said and done, and you testify about what God did during the storm, He gets the glory.
THE LORD KNOWS WHAT HE IS DOING
After 400 years, the Israelites are almost out of Pharaoh's reach and God tells them to turn back. Why did He do this? Because God was about to put them in an impossible situation.
Pharaoh thought it was a mistake to let the Israelites go and ordered 600 of his best men to pursue them. When they saw Pharoah approaching, they questioned Moses' intentions but he told them not to fear. He told them that God would deliver them from the Egyptians and that they would never have to see them again.
Exodus 14:13-14 says, "Moses answered the people, 'Do not be afraid. Stand firm and you will see the deliverance the Lord will bring you today. The Egyptians you see today you will never see again. The Lord will fight for you; you need only to be still.'"
When your enemies are coming, being still is one of the hardest things to do. When God says to be still, don't fight, and when God says to fight, don't be still.
Maybe similar to the Israelites, God brought you out, you followed Him, and He led you to a crossroad between a sea and an army that can take you down in seconds. Your situation may not be that intense but the Lord still requires that you stand still to see His salvation.
Why? Because God knows what He is doing and desires to be glorified. You were created to glorify Him and one moment in God's glory can transform you for a lifetime.
GOD GAINS GLORY THROUGH HIS ENEMIES
Exodus 14:4 says, "'And I will harden Pharaoh's heart, and he will pursue them, and I will get glory over Pharaoh and all his host, and the Egyptians shall know that I am the Lord.' And they did so." When God desires to be glorified, it's not just for your salvation but so that the world will know He is God.
What if your impossible situation is not just for you? But even those for those hate you? That's how good God is. When He is glorified, even His enemies see His goodness and bow their knees and worship God.
God gained glory through Pharaoh. He has leaders who hate him in authority so He can be glorified. Throughout Exodus 14, God stresses that He will get glory from Pharaoh.
Pharaoh and his army were swept away in the Red Sea and when the Israelites saw this, they trusted in the Lord and in Moses. Exodus 14:31 says, "And when the Israelites saw the mighty hand of the Lord displayed against the Egyptians, the people feared the Lord and put their trust in him and in Moses his servant."
GOD DESIRES TO BE GLORIFIED
You were created to glorify God and when God is glorified, it puts His splendor on display.
Isaiah 61:3 says, "To appoint unto them that mourn in Zion, to give unto them beauty for ashes, the oil of joy for mourning, the garment of praise for the spirit of heaviness; that they might be called trees of righteousness, the planting of the Lord, that he might be glorified."
After the Israelites escaped Pharaoh and his army, their trust in the Lord grew. Perhaps, you may be going through a situation that will cause many to be saved. When they see how God has been working in your life, and He is glorified, they too will desire to get to know and trust in Him.
You may be facing a situation where it looks like the devil is being glorified, and it can look like that initially, but in the end, God always gets the glory.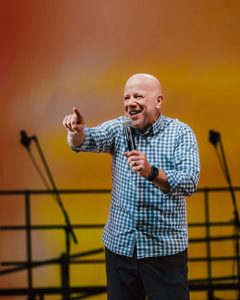 APPLICATION QUESTIONS
Are you faced with a situation in which God needs to be glorified?
How can God get glory out of the current situation you may be facing? Can this situation deepen your trust in the Lord? Will it lead to others being saved?