Pastor Russell Benson
'Now faith is the substance of things hoped for, the evidence of things not seen. '
– Hebrews 11:1 
Hope is defined as "a posture of enthusiastic expectation of what is to come." God wants the church to be filled with an abundance of hope. Faith is made from the material called hope. Hope gives faith direction.
Abraham hoped against all hope. When everything looked impossible, he built a track for the faith train to move forward. He made a way for the impossible to become possible.
Without hope, you are stuck and the train is off the rails. You need to get back on track with a posture of enthusiastic expectation of what's coming.
THE SOURCE OF YOUR FAITH
Proverbs 13:12 says, "Hope deferred makes the heart sick, but a desire fulfilled is a tree of life." Suspended hope brings about discouragement and depression. Elijah was facing Jezebel, Ahab, drought and so many things, but you have to make a choice in your life that no matter what is going on, you need to have hope because the source of your hope is not your external circumstances. The source of your faith is hope and the source of your hope is the reality of a good, good Father.
Romans 15:13 says, "May the God of hope fill you with all joy and peace in believing, so that by the power of the Holy Spirit you may abound in hope."
Psalm 62:5 says, "Find rest, O my soul, in God alone; my hope comes from him."
He is an unending, undying, and unquenching fountain of hope. No matter what attack comes your way, remember that He is the God of all hope.
START DECLARING THE WORD OF THE LORD
Your confession has to change. Your hope has to be big enough to change what comes out of your mouth. Declaration produces hope, hope produces faith, and faith changes what is around you. You need to declare and proclaim the word of the Lord.
Jeremiah 29:11 says, "'For I know the plans I have for you', declares the Lord, 'plans to prosper you and not to harm you, plans to give you hope and a future.'" Hope and the future are both linked. The Lord is thinking about you and how to bless you and give you hope. He has thoughts of peace and abundance about you.
But what are you saying?
You can't change your past and change those that hurt you. Pain and hurt will come, but you can change your position. You can make up your mind that you will be hopeful and have an enthusiastic expectation of the future.
It's time for you to increase your hope level in your life. Expand your capacity to hope and make room for God to move. Nothing is impossible with God. He can do it.
You need to speak Jesus over your ministry, your business, your job, your family, and every trial that comes your way. You will notice that when you speak Jesus over all these areas, things will begin to change in your life.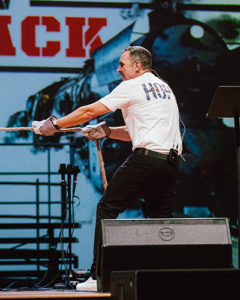 STOP LISTENING TO THE VOICES OF FEAR
The voices of fear are way more abundant in society than the voices of hope. Society is infested with fear. But as the church, we have to posture ourselves with hope and faith. You can't move forward if you keep looking at what happened in the past.
Fear, anxiety, and depression are the three main robbers of your hope. But If you've ever taken part in a tug of war, you would understand how easy it is to look at the other team and feel defeated because they have stronger members. But sometimes, you need to hold onto hope and by extension, that means holding on to Jesus. It's easier said than done but you have to learn not to let go that easily.
Speak to fear. Declare that you will fear no evil because the Lord walks with you.
Speak to anxiety. Declare that you believe in Jesus and that He is able to carry you through.
Speak to depression. Remind depression that the joy of the Lord is your strength. The Lord is the light of your salvation and He is your victory.
By declaring and not letting either of these voices win, you've won. And you've only won because of the Lord. The battle is never yours. It's His battle and He never loses.
There is hope for you. You may have been in a battle and wanted to give up, but Jesus is the source and the hope. Jeremiah 17:7 says, "Blessed is the man who trusts in the Lord, whose trust is the Lord."
When you hope in the Lord, miracles happen. He gives you joy and peace, a future, and destiny.
APPLICATION QUESTIONS
How are you positioned? Are you hopeful? Or are you hopeless?
How are you speaking about your current situation? Are you declaring the name of Jesus? Are you declaring that you will be victorious?
Will you step out in faith and build a track to allow God to meet you?